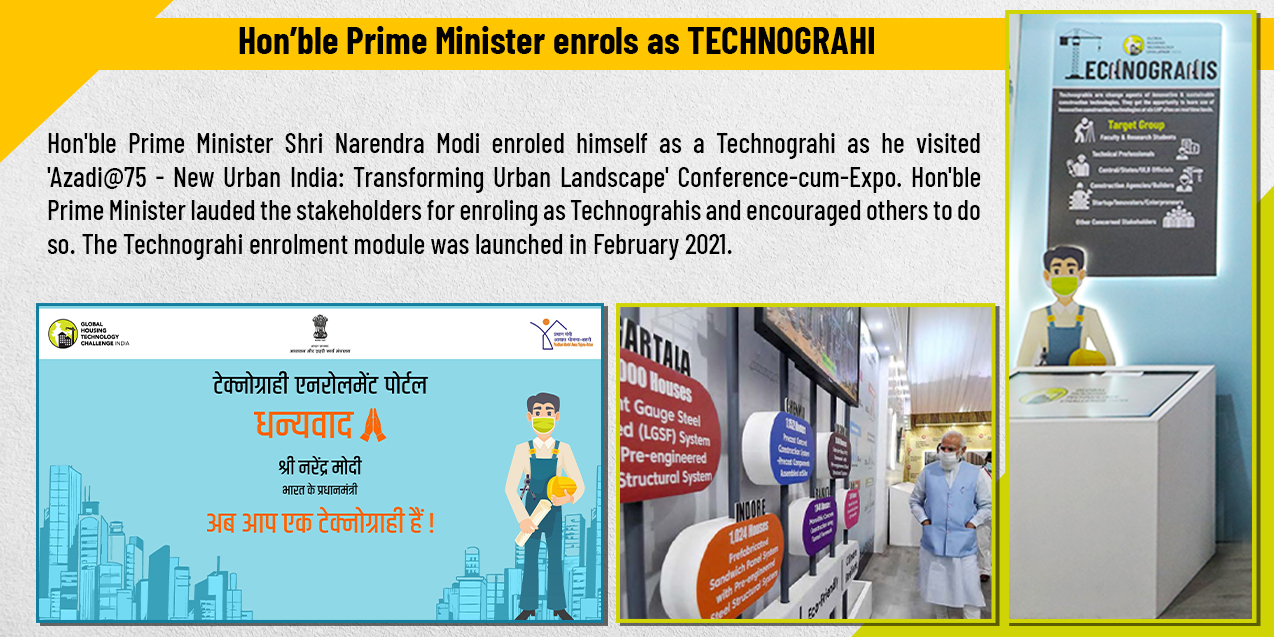 Hon'ble Prime Minister's visit to IHTM
During 'Azadi@75 - New Urban India' Conference-cum-Expo in Lucknow, Hon'ble Prime Minister visited Indian Housing Technology Mela (IHTM), an exhibition on indigenous, innovative construction technologies. During the visit Hon'ble Prime Minister interacted with technology providers at their stalls exhibiting innovative technologies and materials.

Videos of Hon'ble Prime Minister's visit to the stalls along with their details are as follows:

1. Auroville Earth Institute

System/product: Compressed Stabilised Earth Blocks (CSEB) CSEB are produced from local soil mixed, stabilised with small amount of cement or lime. The mix is pressed in a mould using press machine. They are affordable, suitable for all climatic conditions and reduce carbon emissions signicantly less than ordinary burnt clay bricks. The press can produce about 75 different types of blocks.




2. M/s Green Jams

System/product: Agrocrete, binder as Building Materials Agrocrete- made from crop residues like paddy straw, cotton stalk, bagasse, etc. & industrial by-products like slags, ashes & lime sludge. Binder made using slags from various steel and ferro alloy manufacturing processes. Agrocrete® is stronger than conventional y ash bricks, burnt clay bricks, highly suitable for low-rise as well as high-rise constructions. BINDR requires less water for curing.




3. M/s Apana Ghar

System/product: Structural Terracotta Blocks Structural Terracotta Blocks are made of silt and industrial wastes, green building product which may be used in building construction. This system saves time, is resource-ecient, cost effective & ideal for scattered or up to G+3 storied building.




4. M/s Timpack Pvt. Ltd

System/product: Bamboo mat corrugated roong sheet & ridge cap for roong and bamboo mat wall panels This is a patented technology developed by Indian Plywood Industries Research & Training Institute (IPIRTI), Ministry of Environment, Forest and Climate Change & Building Materials & Technology Promotion Council (BMTPC), MoHUA. Bamboo mat corrugated sheets, ridge cap and bamboo mat board are made out of multi-layer bamboo mats soaked in PU resin and pressed in hot press. It is eco-friendly, sustainable, renewable & can be made available in any part of the country.




5. M/s Mutha Industries Pvt Ltd

System/Product: Bamboo Wood Epitome Bamboo wood is environment-friendly, natural and stronger than most hardwood in the market. The ooring is made from strand woven bamboo. It displays higher tensile strength than many alloys of steel. It has capabilities for higher compressive strength than many mixtures of concrete. Bamboo wood ooring is an eco-friendly product. It offers durability and luxurious nish of hardwood, but without ecological damage.




6. M/s Eco Vision Industries

System/product: Green Building Technology Made out of 50% y-ash, mixture of cement, water and preformed foam. The blocks replace conventional bricks/blocks. It doesn't require sandcement mortar. A precast concrete ooring/roong system for single and multi-storey buildings. The system is energy ecient, recyclable, environment-friendly, cost-effective and time saving. Pre-fabrication in factory leads to better quality control.




7. M/s EPACK Polymers Pvt Ltd.

System/product: Prefab Structural Components Pre-Engineered Steel Building system, LGSF System and Insulated Sandwich Panels. Steel structures have lower maintenance cost & last for years (average life of 50-100 years). Use of standard components reduce the engineering, production and installation time, with overall saving in money and time. Prefabricated buildings produce less waste during the building construction process. Prefabricated Building Construction reduce total construction time on a project by more than 50%.


Hon'ble Prime Minister's speech at IHTM